20 Best Dog Friendly Restaurants in Chicago, IL
Bringing your four-legged buddy along to a restaurant or bar is one of the best ways to spend as much quality time as possible, no matter the season. While dinner and drinks with friends make for a fun evening, it's much better if your dog tags along. That is unless your dog spends the entire time trying to steal food, barking at other patrons and dogs, or whining. Such behaviors can turn a dining experience into a nightmare, forcing you to rush through the meal to avoid further frustrations and embarrassment. If your dog is well-trained, dining outside with them should be bliss. If you are in Chicago and looking for a dog-friendly place to eat, you would be happy to know that there are plenty of outdoor restaurants, bars, and even beer gardens in the Windy City that allow patrons to dine with their furry family members. Some restaurants provide treats, water, and even special doggy menus so your furry friend can have their own memorable dining experience. So, whether you dread leaving your pup at home to go for food and drinks or enjoy the simple pleasures of dog-watching as you dine, here are some of the best dog-friendly restaurants in Chicago, IL.
The Bad Apple
The Bad Apple is a casual eatery and bar at Lincoln Ave that serves up a myriad of delectables. They have a spacious, pet-friendly outdoor eating space where your canine friend is welcome to join you. Start your evening with a cold beer and then follow that up with a soft pretzel served with a hearty tomato and red pepper sauce with goat cheese. Finish the evening with a delicious Southern Dandy Burger topped with Spanish sweet onion, Buckboard molasses bacon, pepper jack cheese, and sweet and spicy Dandy sauce.
The Patio at Cafe Brauer
Experience the beauty of nature by taking a walk with your dog through Lincoln Park before enjoying good food and a drink at Chicago's most scenic al fresco bar and restaurant – the Patio at Cafe Brauer. The patio café is located south of the main grounds on the picturesque Nature Boardwalk and offers unparalleled views of the Chicago skyline and the restored prairie ecosystem. Dogs are welcome to lounge on the patio with an al fresco meal plus live music offered weekly.
Juniper Spirits & Oysters
Claridge House, the pet-friendly Gold Coast hotel, debuted a seafood restaurant – Juniper Spirits & Oysters. Dogs and their humans are welcome to enjoy seafood-centric fare and craft cocktails as you get a professional portrait snapped. As you enjoy your meal, your dog can order from the chef-driven dog menu with delicious dog treats and cocktails like DogPerignon or a Hefewoofen, a drink made from organic chicken, broth, malted barley, and carrot.
Big Star 
Big Star is a taco-slinging, bourbon, and beer-focused establishment in the heart of Chicago's Wicker Park. Their menu is inspired by authentic Mexican street food and complemented by their house-selected single-barrel bourbon program. Big Star is one of the best dog-friendly restaurants in Chicago, and they even created the hashtag #dogsofbigstar. They also have a Wrigleyville location that is also dog-friendly.
Ranalli's
Ranalli's is a longstanding neighborhood pizzeria and bar, offering guests delicious pizzas and drinks in a comfortable and communal setting. Patrons can enjoy specialty pizzas, hearty sandwiches, signature 4C appetizers, fresh salads, craft beers, and classic cocktails. The space is whimsical and lively and features a large dog-friendly outdoor sidewalk café whereby you can lounge with your dog.
Broken English
Broken English is a taqueria in Chicago's three most vibrant neighborhoods – Old Town, Lincoln Park, and The Loop. The dog-friendly establishment combines a unique take on Mexican street-style tacos, refreshing beverages, local-talent artworks, and eclectic music. Enjoy their taco trays and margarita pitchers in your canine friend's company since Broken English is a dog-friendly restaurant.
Antique Taco
Antique Taco is a minority-owned and women-owned family business established in 2012. The dog-friendly restaurant is popular for crispy fish tacos and horchata milkshakes. On top of that, they have a spacious 100-seat patio where your four-legged friend can lounge with you. Their original Wicker Park location is also dog-friendly.
Wishbone
Located at 161 N Jefferson St, Chicago, IL, the Wishbone has become a popular spot for locals to enjoy traditional Southern food. The spacious dog-friendly patio seating is an excellent addition for dog owners. They serve tasty options, including buttermilk pancakes, shrimp and grits, biscuits and gravy, omelets, North Carolina-style crab cakes, smoked beef brisket, and blackened catfish.
312 Chicago
312 Chicago is an Italian spot and a favorite spot for diners in the Chicago Loop. They welcome patrons and their leashed dogs on the outdoor patio during the summer.
Eduardo's Enoteca 
Eduardo's Enoteca is another dog-friendly restaurant in Chicago, IL. They offer a wide selection of craft spirits, small-production wines, and light authentic Italian fare. Feel free to sip your wine alongside your furry friend at one of their ten outdoor tables.
Tapas Valencia
If you are in the mood for Spanish tapa and martinis, head to Tapas Valencia. This dog-friendly hidden gem in Chicago offers an extensive menu that includes chicken, fish, soups, salads, specialty desserts, and vegetarian options.
Cody's Public House
Cody's Public House is located at 1658 W Barry Ave. It is a popular dog-friendly watering hole where your pup is welcome to join you for a drink inside the cozy bar or outside on the deck. Order from their extensive drink list that includes wine, craft, domestic, and imported beers, seltzers, ciders, signature shots, and specialist drinks.
Smoke Daddy
If you want a world-class BBQ in the Windy City, head to the Smoke Daddy. Also referred to as the home of the Lil Red Smoker, Smoke Daddy offers a succulent selection of pulled pork, beef brisket, St. Louis style or baby back ribs, and wood-roasted rotisserie chicken. Wash it down with a signature cocktail or craft beer. Dogs are welcome to join you on the seasonal patio.
The Dock
The Dock is a casual beach bar located in Chicago, IL. It serves various tasty foods and drinks, including fish tacos and BBQ pulled pork. They have a spacious outdoor dog-friendly eating area with tables where you and your pup can enjoy the day.
Pinstripes
Pinstripes is a dog-friendly restaurant in the heart of Chicago with two pet-friendly outdoor patios. Their menu is American-Italian inspired, with lunch and dinner options that include yellowfin tuna flatbread, roasted cauliflower orecchiette pasta, boneless short ribs, sandwiches, flatbreads, grinders, and salad combs and soups.
Yolk
Located at 355 E Ohio St, Chicago, Yolk is a dog-friendly restaurant offering a fresh take on breakfast. The restaurant focuses on serving high-quality food in a welcoming environment. They have a large outdoor patio where your dog can join you for a meal.
Lou Mitchell's Restaurant
When Uncle Lou's father started a Chicago family diner in 1923 specializing in breakfast, brunch, and lunch, little did he know how successful the diner would become. Today, Lou Mitchell's Restaurant isn't just a classic Chicago icon, but their food has been recognized nationally and internationally with endless accolades from USA Today, American Way, food critics, newspapers, magazines, and television. Those who want to enjoy a meal with their dog are welcome to one of Lou Mitchell's seven outdoor tables.
Gemini
Gemini is a modern eatery located at 2075 N Lincoln Ave, Chicago, IL. The restaurant serves up delicious American fare. Your dog is welcome to sit with you at one of the dog-friendly outdoor tables.
Do-Rite Donuts & Chicken
Do-Rite Donuts & Chicken is a pet-friendly spot in Chicago that is ideal for dog owners with a sweet tooth. Enjoy candied maple bacon donuts, chicken sandwiches, and gluten-free and vegan options of Valrhona chocolate cake, vanilla bean glazed, or blueberry crumbs. Your dog is welcome to tag along.
The Perch Kitchen and Tap
Not many dog-friendly restaurants in Chicago offer a separate dog menu, so spots like The Perch Kitchen and Tap are a welcoming relief. Order your dog a Puppy Power Bowl, Pupsicle, or a Hefe-Woof-Zen drink. For humans, the restaurant offers a wide variety of delicacies, from wood-fired grill items to burgers, sandwiches, and vegetarian options.
Dining With Your Dog in Chicago's Dog-Friendly Restaurants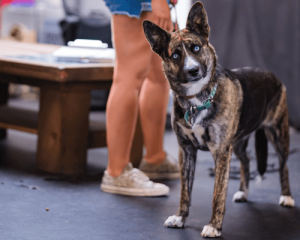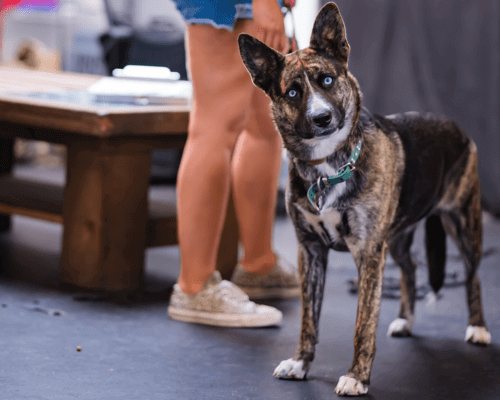 Chicago is a very dog-friendly city, and there is so much for you and your pup to explore in the Windy City. The town has many dog parks, dog-friendly cafes, restaurants, and other establishments that leave out food and water for the dogs walking by. Many pet-friendly restaurants in the Windy City have special dog menus, and those that don't have delicious dog treats to offer your four-legged companion.
However, your dog needs to be on their best behavior the entire time you are at a restaurant, no matter how accommodating they are to pets. A dog who is constantly barking at other diners and dogs is a nuisance and makes for a frustrating dining companion. Consider training your dog to handle new environments, dogs, and people, no matter what is happening around them. Luckily, this is something a professional dog trainer can help you with.
Whether you've owned dogs all your life or have just adopted your first pup, we all need a little help to understand our canine companions better. At the heart of Chicago is Off Leash K9 Training of Chicago, Chicagoland's #1 dog trainer. Our trainers have decades of experience between them specializing in obedience training.
Whether your pup has aggression, anxiety, or problems obeying commands, our training programs are tailored to help owners handle their dogs better. All our training is done off-leash and with distractions, giving you a 100% obedient, 100% off-leash, and 100% distraction-proof pup.